BELLBROOK ROOFING COMPANY
PROVIDING QUALITY ROOFING SERVICES IN BELLBROOK, BEAVERCREEK, CENTERVILLE, WAYNESVILLE, SPRINGBORO AND THE SURROUNDING AREAS SINCE 2003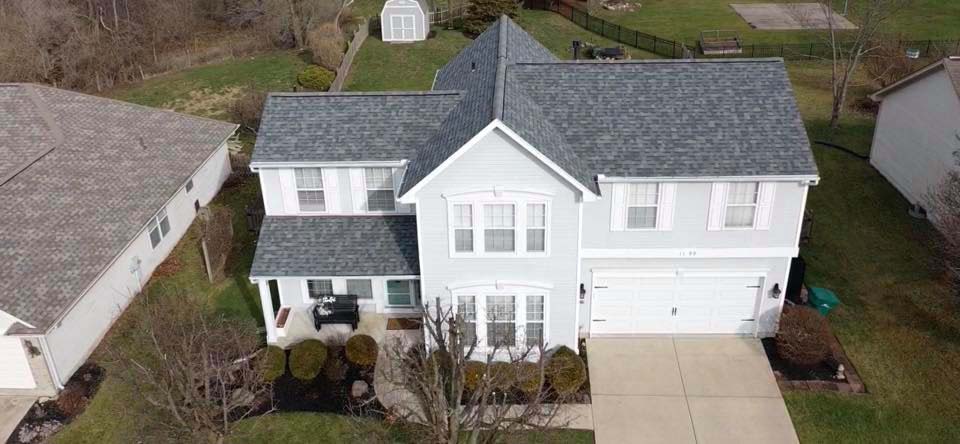 gain peace of mind no matter what mother nature brings
Have you been putting off a new roof installation or necessary repairs? Is your home's siding or gutter system in need of an update? Don't wait any longer. Hire the expert roofing contractors at WIW Roofing for your next roofing project. Not only do we offer a full suite of roofing services for your home in Bellbrook & Centerville, OH, we will also perform a thorough inspection and provide an accurate estimate to save you time and money.
Reach out today to schedule an appointment!
Keep Your Home Safe From The Elements
Ask about our siding and gutter replacement services today!
Need Help Submitting Your Insurance Claim And Completing The Work?
We've got you covered! Check out and download our PDF on Ten Easy Steps! >>>
See What Our Customers Are Saying
Dylan Feliciano
February 1, 2023.
They replace our roof and installed new gutters. The price was competitive and fair. The team of installers was professional, worked quickly, and did a great job cleaning up waste and all materials including the paper that had the wind blown throughout the neighborhood. Our roof has a lot of angles and is steep, I was impressed with the craftsmanship.
Rian Newman
January 31, 2023.
WIW Enterprises did a great job replacing my roof. I had called 3 other roofing companies, and they were the only ones to follow through with giving me an estimate and getting the job started. They were on time and professional throughout the project. When they finished, they made sure there were no nails or any other debris left on the property. They did a great job.
Cory Holt
January 28, 2023.
Levi and his crew with WIW were awesome! They replaced my roof in a timely manner and made everything as smooth as possible. Will definitely be using them in the future!
Lovie Taylor
January 28, 2023.
Using WIW Enterprises was painless and very easy to get a new roof installed by them. I would only recommend them for roof-related work in the Bellbrook area.
Julie Westley
January 27, 2023.
WIW Enterprises is our go-to roofing company for our home. We've hired them to patch the roof a couple of times. Their service is amazing, professional, and all-around fabulous!
Bryan Mendes
January 26, 2023.
My roof looks especially amazing. I do highly recommend WIW Enterprises as the process was made by them professionally.
Sara Duterte
January 26, 2023.
They completely rebuilt my roof, and I was overjoyed. I strongly suggest this roofer to anybody in need of a new roof or roof repair.
Anna Dubhe
January 24, 2023.
Full roof repair. They ensured that the whole process went smoothly and maintained constant communication with me. The assigned team knocked it out and kept the yard debris contained during the work and left no traces of debris on the ground afterward.
Layra Daff
January 22, 2023.
I am so glad I chose WIW Enterprises for my roof installation. They provided really helpful information about the high-quality products they recommend for roofing, and I really appreciated the no pressure approach in providing an estimate and giving me the time I needed to make a decision.
Fiona De Moura
January 20, 2023.
We needed our roof repaired after some damage from past storm. WIW Enterprises provided true professionalism and hard work throughout the process. We're thrilled with the end result! Would highly recommend them
"Brittany and EJ were fantastic to work with. Brittany was super responsive unlike some other roofing companies and always returned my phone call or email within 24 hours. We got a new roof and they worked so well with our insurance company. The insurance company was originally only going to cover half the cost but Brittany and EJ worked some magic and got the whole cost covered saving us thousands! We have a 1500 square foot house and they did all the work in 1 day which we appreciated and the roof looks amazing! Highly recommended!"
"I never write reviews but would use this place again. Shoddy previous roof and awning job resulted in failure after just a few years....awning fell apart and water started leaking from a light fixture. Had a couple contractors come out for an estimate and I went with WIW. EJ came out and pointed out what the other contractor failed to do. Roof was completely reskinned and shingled in one day and new awning put in a few days later and it all looks great. They also cleaned up really well afterward, only found a couple nails...expected. I have zero complaints."
"We had a part of a tree fall on our roof during high winds. I called WIW after it happened and they came right out to remove the tree off the roof and cover the hole left from the tree. They worked with our insurance company to get the front slope of our roof covered and tried even harder to get the back slope covered but the insurance company wouldn't budge. I appreciate all the effort they took to try and get the whole roof covered. It showed me that they care about their customers. My roof is completed and looks amazing. I highly recommend this company for your roofing, siding, or remodeling needs. They are a great company and went above and beyond all my expectations."
"Outstanding work in residing part of my home. EJ and his father worked well together and got the job done! I am more than pleased with the quality of workmanship, better than I expected! Fair pricing, honest and upfront."
"WIW is simply outstanding, a quality hard to find these days! Their attention to detail is impeccable! They take the time to ensure they do the job right, and do it right the first time. They repaired some damaged siding and window frames on my house; so much so, it looks original to the house. The work was seamless! We had them come back and put a roof on our barn. WIW installed the roof better than what was original to the barn. They took the extra steps into the small details to ensure my roof lasts. I usually don't speak this highly of a contractor. WIW will be my goto contractor! The best in the Miami Valley!"
"Awesome service, worked with my insurance company to get the roof covered fully. Very professional, and a quality job. Definitely recommend!"
"I recently purchased a house with a really bad roof. I used WIW for installing the new roof. They were really pleasant to work with and the new roof and gutters look great! I am definitely going to keep them in mind for future work on this old house."
"I used WIW for a roof repair job on my house in Kettering. They were a very easy company to work with and they did a great job. I'd recommend them for anyone looking for a roofer in the Dayton area."
"Referred them to a client for gutter repair, they had two other companies come out and give them estimates. EJ got on the roof, checked gutters out and gave them advice and an estimate lower than the others. This subsequently led to other work that they needed done on their home."
"WIW has done both little and big house repair jobs for me and I have always been impressed with their knowledge and professionalism!!!!"
"Used them a few times for my buyers & sellers. Always had great service and reasonable prices."
We have the tools and experience to meet all of your roofing and siding needs. Here's what we offer:
To get started with any of these roofing services, call 937-254-4926 today. One of our experts will be happy to walk you through your options.
Financing Options Available!
No interest/No payments for 12 months, interest goes from 15.99-24.99% if not paid in full within 12 months
10.99% fixed interest for up to 84 months
7.99-19.99% credit dependant for 180 months
Check Out Our Team In Action!
Frequently Asked Questions
As a family-owned and operated roofing contractor, we are committed to making sure our customers get the most out of our services. Our team of experts has over 30 years of combined experience working in the industry. From the initial consultation, until the job is completed, we are here for you.