PROVIDING QUALITY ROOFING SERVICES IN BELLBROOK, BEAVERCREEK, CENTERVILLE, WAYNESVILLE, SPRINGBORO AND THE SURROUNDING AREAS SINCE 2003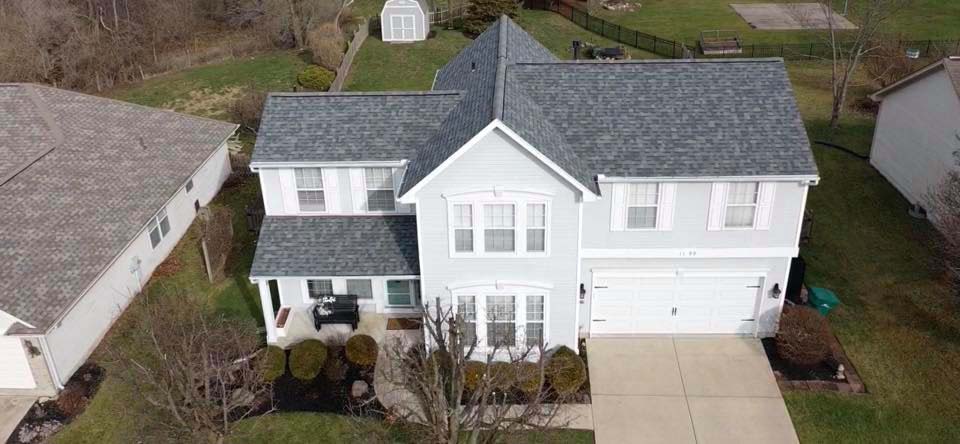 gain peace of mind no matter what mother nature brings
Have you been putting off a new roof installation or necessary repairs? Is your home's siding or gutter system in need of an update? Don't wait any longer. Hire the expert roofing contractors at WIW Roofing for your next roofing project. Not only do we offer a full suite of roofing services for your home in Bellbrook & Centerville, OH, we will also perform a thorough inspection and provide an accurate estimate to save you time and money.
Reach out today to schedule an appointment!
Keep Your Home Safe From The Elements
Ask about our siding and gutter replacement services today!
Our Sponsorships & Donations
Need Help Submitting Your Insurance Claim And Completing The Work?
We've got you covered! Check out and download our PDF on Ten Easy Steps! >>>
See What Our Customers Are Saying
Nora Barnes
June 19, 2023.
When it comes to roof repair, WIW Roofing is the best in the business. They quickly came to my house when I called them that I needed help. Glad that my roof is now fixed.
Emery Kristoffer
June 18, 2023.
It was depressing to watch 3" hail beating down the roof of my 5 month old home. But my experience with WIW Roofing restored my faith in roofing contractors. Our roofing contractor told me he would be at my home within a day, but called back later to say that his scheduled had opened and that he was on his way. Not only did he make the necessary repairs, but also inspected the rest of the roof and gave me an honest assessment. Most roofers want to exaggerate damage in order to win your business, but WIW Roofing can be trusted to give it to you straight. I highly recommend their speed and professionalism, if you are looking for your roof to get fixed!
Joyce Harris
June 18, 2023.
I greatly recommend WIW Roofing for any roof installation project. They have experts in that field and they provide great service. Thanks for installing my roof!
Cecilia Turner
June 17, 2023.
The roofers from WIW Roofing did an awesome job repairing my roof. They were fast, professional, and the quality of their work was great. I would definitely recommend you guys to anyone I know.
Sandy Collins
June 15, 2023.
When I needed roof repair, I reached out to WIW Roofing. They're a reliable roofing company with skilled roofers. Thanks for helping me with my roofing issues. Glad I was in good hands.
Erik Wallace
June 11, 2023.
The skilled roofers of WIW Roofing recently repaired my roof. I'm glad that there's no leak now. Thanks for the immediate help guys.
Esther Sanchez
June 10, 2023.
This roofing company showcased outstanding craftsmanship during my roof installation. If you ever need a roofer, don't hesitate to call WIW Roofing.
WIW Roofing is our roofing contractor. They did a perfect roof installation that really amazes me.
Clara Baker
June 7, 2023.
WIW Roofing exceeded our expectations as roofers, with their roofing contractors delivering excellent roof repair and replacement services, making them one of the top roofing companies in the area.
Margie Wallace
June 4, 2023.
WIW was indeed wonderful to work with. I recently thought of changing my roof and they were there in every step of the way. From initial planning to the final result. I highly appreciate my newly installed roof.
"Brittany and EJ were fantastic to work with. Brittany was super responsive unlike some other roofing companies and always returned my phone call or email within 24 hours. We got a new roof and they worked so well with our insurance company. The insurance company was originally only going to cover half the cost but Brittany and EJ worked some magic and got the whole cost covered saving us thousands! We have a 1500 square foot house and they did all the work in 1 day which we appreciated and the roof looks amazing! Highly recommended!"
"I never write reviews but would use this place again. Shoddy previous roof and awning job resulted in failure after just a few years....awning fell apart and water started leaking from a light fixture. Had a couple contractors come out for an estimate and I went with WIW. EJ came out and pointed out what the other contractor failed to do. Roof was completely reskinned and shingled in one day and new awning put in a few days later and it all looks great. They also cleaned up really well afterward, only found a couple nails...expected. I have zero complaints."
"We had a part of a tree fall on our roof during high winds. I called WIW after it happened and they came right out to remove the tree off the roof and cover the hole left from the tree. They worked with our insurance company to get the front slope of our roof covered and tried even harder to get the back slope covered but the insurance company wouldn't budge. I appreciate all the effort they took to try and get the whole roof covered. It showed me that they care about their customers. My roof is completed and looks amazing. I highly recommend this company for your roofing, siding, or remodeling needs. They are a great company and went above and beyond all my expectations."
"Outstanding work in residing part of my home. EJ and his father worked well together and got the job done! I am more than pleased with the quality of workmanship, better than I expected! Fair pricing, honest and upfront."
"WIW is simply outstanding, a quality hard to find these days! Their attention to detail is impeccable! They take the time to ensure they do the job right, and do it right the first time. They repaired some damaged siding and window frames on my house; so much so, it looks original to the house. The work was seamless! We had them come back and put a roof on our barn. WIW installed the roof better than what was original to the barn. They took the extra steps into the small details to ensure my roof lasts. I usually don't speak this highly of a contractor. WIW will be my goto contractor! The best in the Miami Valley!"
"Awesome service, worked with my insurance company to get the roof covered fully. Very professional, and a quality job. Definitely recommend!"
"I recently purchased a house with a really bad roof. I used WIW for installing the new roof. They were really pleasant to work with and the new roof and gutters look great! I am definitely going to keep them in mind for future work on this old house."
"I used WIW for a roof repair job on my house in Kettering. They were a very easy company to work with and they did a great job. I'd recommend them for anyone looking for a roofer in the Dayton area."
"Referred them to a client for gutter repair, they had two other companies come out and give them estimates. EJ got on the roof, checked gutters out and gave them advice and an estimate lower than the others. This subsequently led to other work that they needed done on their home."
"WIW has done both little and big house repair jobs for me and I have always been impressed with their knowledge and professionalism!!!!"
"Used them a few times for my buyers & sellers. Always had great service and reasonable prices."
We have the tools and experience to meet all of your roofing and siding needs. Here's what we offer:
To get started with any of these roofing services, call 937-254-4926 today. One of our experts will be happy to walk you through your options.
Financing Options Available!
No interest/No payments for 12 months, interest goes from 15.99-24.99% if not paid in full within 12 months
10.99% fixed interest for up to 84 months
Check Out Our Team In Action!
Frequently Asked Questions
As a family-owned and operated roofing contractor, we are committed to making sure our customers get the most out of our services. Our team of experts has over 30 years of combined experience working in the industry. From the initial consultation, until the job is completed, we are here for you.